We are more than happy to give advice and book any tours you might like to do, we base our recommendations on personal experience and feedback from guests.
If possible your minimum stay should be 3 nights, there is so much to do in and around Russell as you can see below. Prices below are provided by the supplier and may be subject to change.
Best Way to Experience the Bay and Northland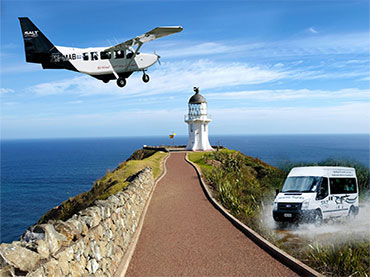 Northland and the Bay of Islands, from the Air with Salt Air
Salt Air offer a number of tours in the Bay and greater Northland areas. We would like to highlight two specific tours that really give you a feel of the area, from the air.
Cape Reinga & Northland Fly-Drive Half-Day Tour – Fly up the West Coast, via the famous 90 Mile beach, landing in the Cape Reinga area within the hour. Enjoy a guided vehicle tour exploring the top of New Zealand in a comfortable air-conditioned vehicle. Return flight via Northland's spectacular East Coast. Approx 4.5 hours length, $450 per person (minimum 2 passengers).
The "Hole Experience" – by helicopter on a scenic flight with a 15 minute landing on top of the "Hole in the Rock" to take in the views with photo opportunities. From $399 per person.
Salt Air offer a wide variety of flight experiences, we can help with arrangements and book your trips for you to ensure you do not miss out.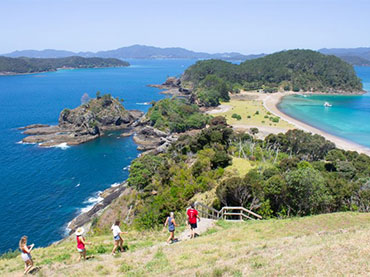 Island Getaway and Hiking
Island Getaway specialise in tours in and around the Bay of Islands. We would like to highlight two options which will give you an excellent introduction to the Bay.
Island Getaway 5hr Cruise & Island Tour – Scenic cruising through the islands with two island stopovers and activities. Take a short walk to the lookout points over the Bay, explore the island reefs whilst snorkelling, try paddleboarding and keep an eye out for our marine wildlife and native New Zealand birdlife. Adult $110, Child $89.
Cape Brett Hike – The Cape Brett track is a rewarding 16km hike along the spectacular Cape Brett Peninsula, with amazing views over the Bay of Islands and Whangamumu headlands. Water taxi to/from Deep Water Cove and Rawhiti. $50 each way.
Check out the website for more options, we can book your experience for you to ensure the best fit with your stay.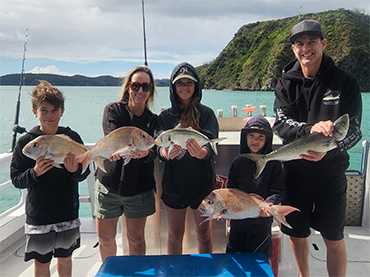 Fish the bay with Major Tom
Welcome to Major Tom Adventures where every trip is an Adventure. Come join Hamish on an adventure of a lifetime in the Bay of Islands. Apollo is based in Paihia and does pickups from Russell and Paihia. We specialise in snapper, Kingfish and game fishing, you choose the target species and we do the rest.
Apollo is powered by Twin 325 HP Duo prop Suzuki Outboards, she has a top speed of 32 knots to make her one of the fastest charter boats in the Bay, this gives her clients more fishing time. She has undergone a makeover and boasts a freshly painted and tidied up main deck and upper sun deck. Apollo provides excellent protection from sun and rain on the main deck and has an onboard toilet.
Apollo has an extensive array of top-quality Shimano fishing gear to suit all angling types. All fishing equipment and bait is provided at no extra cost to the client. Your enjoyment of the Adventure is our top priority. We will do everything possible to ensure this from the time you book to when you walk away with freshly filleted fish for dinner. This is a family-friendly day out.
Snapper adventure (5hrs) $150 per person
Kingfish adventure (6hrs) $300 per person
Big Game adventure (9hrs) $2500 for 4 people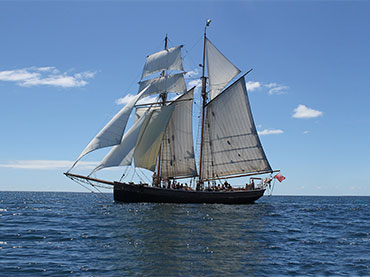 Cruise the Bay with Dolphin Cruises
Hole in the Rock Cruise – This is the most popular dolphin watching cruise in the Bay of Islands, and for good reason! Board your cruise in Paihia or Russell and take in the stunning views as we glide out through the islands and along the Rakaumangamanga Peninsula to Cape Brett, where a historic lighthouse keeps watch over Piercy Island/Motukōkako, or as it is popularly known the "Hole in the Rock". 4.5hrs, Adult $135, Child $67.50.
R. Tucker Thompson Day Sail – Experience the Bay of Islands the old-fashioned way with a cruise on the R. Tucker Thompson, a traditional gaff-rigged schooner with her own unique history. Be as active as you like – take the helm, help set the sails, ride the bowsprit and climb the rigging – or simply relax while the crew command this impressive ship as she sails across the Bay. 6hrs, Adult $159, Child $79.50.
Full-Day Activities/Tours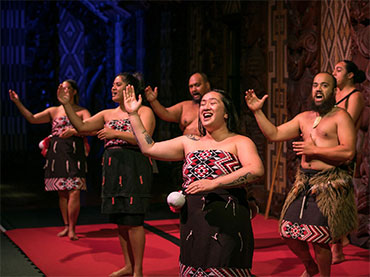 Waitangi Treaty Grounds
There is so much to do at the Waitangi Treaty Grounds. Visit the Museum of Waitangi (Te Kōngahu Museum of Waitangi), see Māori arts at the Arts Centre (Wahre Toi), visit the Treaty House (Te Whare Tiriti), the carved meeting house (Te Rūnanga) or have lunch at the Whare Waka Café. Tours and cultural performances are available. The experience pass is $30 (adult NZ resident) and $60 (international), children up to 18yrs go free.
Hangi and concerts are available in the summer months. Adult $120, Child (up to 18yrs) $55.
Let us book your day at Waitangi and an evening hangi/concert.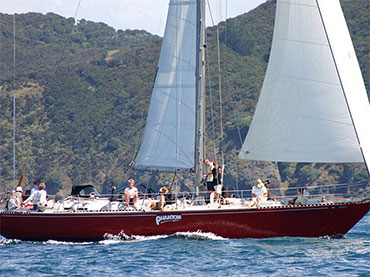 Sailing the Bay on the Phantom
A day sailing in the Bay, Phantom Charters leaves at 10am from the port of Russell, arriving back at 4pm in the afternoon after sailing the Bay of Islands. They are also happy to offer exclusive, tailor-made charters to suit your needs. During your trip, they will take you to a personal favourite location, featuring an island stopover and snorkelling opportunities. They will stop in a sheltered cove for lunch, giving ample time for a lazy, enjoyable meal before travelling on. Sail with a small group – maximum 10 guests – for a more personal experience. Rates from $130pp.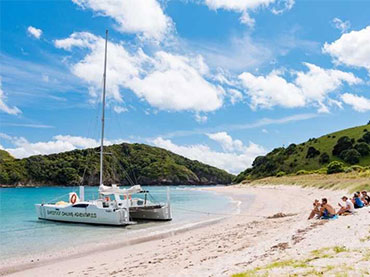 Day Sailing, Half-Day, Lagoon Cruise or Evening Cruise
Join the Barefoot crew exploring the beautiful Bay of Islands by sail. We provide an authentic Kiwi experience, with options to suit both adventurers and chill seekers alike, looking for a mixture of fun, adventure and relaxation. You can do as much or as little as you like.
Choose from a full-day or half-day sailing cruise with an island stopover, or a relaxing evening cruise. With our all inclusive sailing tours there's something for everyone on a Barefoot Sailing Adventure! With options to join a ticketed cruise or book a private charter.
Let our experienced and qualified team take you on a modern-day boat adventure – we'll explore the best of the Bay of Islands hidden gems, with a unique and personalised feel. Specialising in small groups of around 16 passengers, you won't get lost in the crowd, you'll feel like part of the crew!
Our boat Kopiko, is a modern 33ft catamaran which offers a comfortable sailing experience, suitable for all ages. Sit back and relax in comfort while taking in the sights and sounds of the Bay of Islands, or join the crew and have a go at sailing.
Departing from Paihia beach, the catamaran is anchored right up close to the shore line where you join the boat. Start the day with your feet in the sand, kick you shoes off and step aboard for the ultimate Bay of Islands sailing adventure. A day in the Bay, the Kiwi way.
So, welcome aboard! Let the Barefoot crew share our love of sailing with you!
Island Hopper Cruise – Adult $155, Child (12 and under) $135. 6hrs.
Lagoon Bay Cruise – Adult $125, Child (12 and under) $110. 4hrs.
Sundowner Evening – Adult $70, Child (12 and under) $60. 2hrs.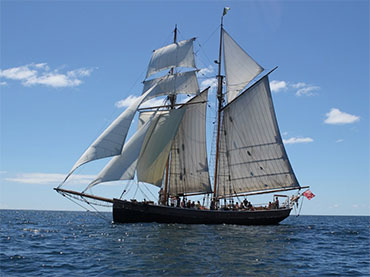 Tall Ship Sailing on the R. Tucker Thompson
Sailing on the R. Tucker Thompson was the best day of our holiday!
That's what people say after sailing on board the R. Tucker Thompson, and not without good reason! It's one of the few opportunities to go sailing on a working tall ship, in one of the most spectacularly beautiful parts of New Zealand, the Bay of Islands.
With the wind behind us, this is one of the most environmentally friendly ways to see the Bay; you can be sure your carbon footprint is minimal. Better still, with profits made from tourism going to support youth development, your day out is going to a good cause. Our day sails operate between the beginning of November and Easter holidays, after which time we revert to our youth development voyages.
Your day sailing includes:
Freshly baked scones and cream tea from our galley
Chance to take the helm, hoist the sails or climb the rigging
Island stopover in sheltered bay (relax, swim, or explore ashore)
Delicious BBQ lunch served on board
Licensed cash bar on board with local wines and beers
Share stories with our friendly crew
Free ferry transfers to Russell on any ferry
Adult $159, Child $79.50.
Sundowner cruises also available.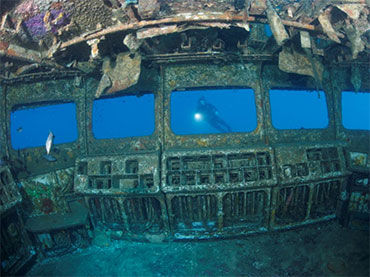 Dive the Bay of Islands, the HMNZS Canterbury and the Rainbow Warrior
Bay of Islands is home to beautiful reefs and protected marine reserves. There is a large diversity of marine life that makes the Bay of Islands home all year round. We also see many species that pass through seasonally. Paihia's reef diving is stunning any time of year.
The former Navy frigate HMNZS Canterbury F421 now rests in Deep Water Cove near Cape Brett. Upright and intact, she makes for an impressive sight. This is a great dive location year-round. (Max depth 36m however dives range at 20-30m).
The Rainbow Warrior was Greenpeace's flagship. Sunk by French saboteurs in Auckland Harbour she was refloated and re-sunk off the Cavalli Islands. The Rainbow Warrior is one of the world's premier dives (max depth 26m).
From $180, divers must be qualified. Paihia Dive also conducts PADI dive training, course times on request.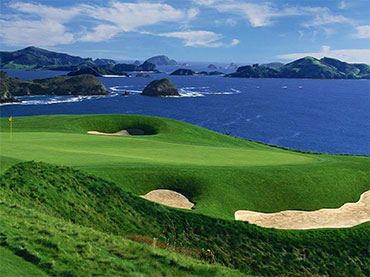 Golf
A plethora of golfing options awaits, from the world-renown Kauri Cliffs to the more sedate Waitangi Golf Course and Kerikeri Golf Club.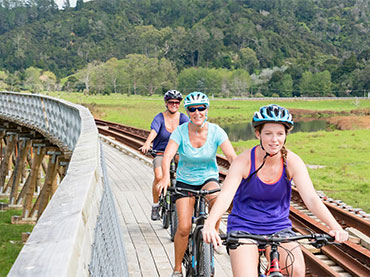 Twin Coast Cycleway
It is now possible to cycle the width of the Island from Opua to Horeke. For a good day's cycling, we recommend the Opua to Kawakawa stretch section (11km).
Starting in Opua this section is unique in that some of it is disused rail corridor that you are cycling along or through as there is a train tunnel. Share the trail with vintage trains from the Bay of Islands Vintage Railway. You may take bikes aboard the trains between Taumarere and Kawakawa stations. It is a very easy ride with stunning water views.
Opua is a bustling commercial port with a large marina and boatyard. It is the first port for oversea yachts arriving in New Zealand after crossing the Pacific Ocean. Opua also has the car ferry from Russell.
The cycle trail starts at the end of Baffin Street, Opua.
Your destination, Kawakawa, is a vibrant rural town with some big tourist attractions.
The perfect toilet stop in Kawakawa is Hundertwasser toilets. There are cafés, a small supermarket, museum, art gallery and plenty of craft and gift shops.
Visit Te Hononga, a Hundertwasser inspired community hub.
The vintage trains also travel along the main street, the only place in New Zealand where this happens.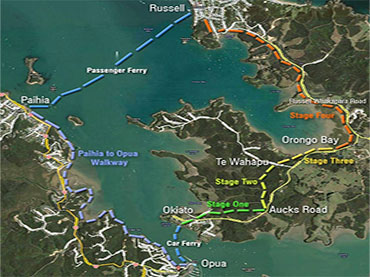 Walk the Russell to Opua Circuit
Complete a full circle walk around the main visitor areas of the Bay of Islands by using a combination of the Paihia to Opua Walkway, the Opua car ferry, the Okiato to Russell Walkway and the Russell to Paihia ferry.
The Paihia to Opua Walkway is a well-established track. It follows the beach before entering the bush covered coastal walk. The track enters bush after crossing the Te Haumi bridge. It is clearly marked being part of the Te Araroa Pathway. The coastal track is undulating, with excellent water views across the channel to the Russell peninsula and into the Waikare Inlet. The track finishes at Opua, where a general store sells food, drinks and essentials.
At Opua, board the car/passenger ferry to Okiato on the Russell Peninsula.
The Okiato to Russell Walkway has flat coastal stretches at the Okiato and Orongo Bay ends. In between it traverses mixed bush where there are hundreds of steps to be encountered requiring a reasonable level of fitness.
From Russell, catch one of the passenger ferries to get to back to Paihia.
Allow a full day, including stops for refreshments.
Shorter Activities/Tours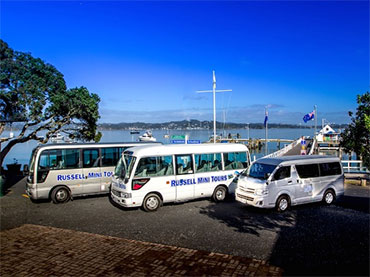 Russell Mini-Tour
Your tour will be led by an engaging guide whose combination of historical knowledge and local insight will bring the culture and history of the area to life.
The Russell mini-tour visits areas which cannot be easily covered on foot, like Flagstaff Hill (Te Maiki). On this spot in the 1840s, Māori cut the signal flagstaff down four times in protest against the British government, leading to war. Hear about the battle that ensued as you enjoy stunning 360-degree views of the whole Bay of Islands.
Allow 1 hour. Adults $32, Child $16.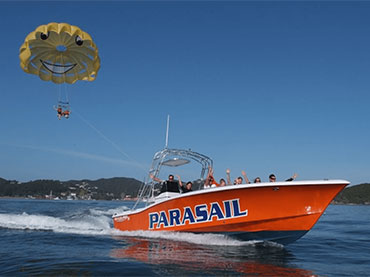 Parasailing
Single, Tandem and Triple options, see the Bay from 1,200 feet. You have a choice of two operators, Parasail Bay of Islands and Flying Kiwi.
You are launched from the rear of the boat (water dipping an option) for an approximate 10-minute flight. Total on water time approx 1.5hrs. Check with operator on age and weight restrictions.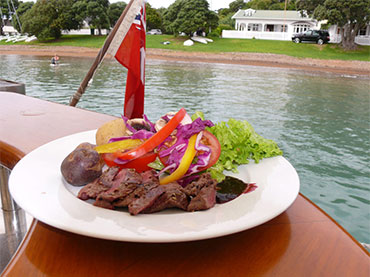 Darryl's Lunch Cruise, Dinner Cruise
Dinner Cruise to Haruru Falls – Join Darryl and the crew on board the Ratanui, a custom-built river cruising boat, made for gliding through the water of our calm inland waterways. This 2.5-hour cruise will take you along the Waitangi River, where the bird life is rampant. Grab your camera and see how many you can spot. Adult $109, Child $42.
Lunch Cruise – Step aboard the custom-built Ratanui, sit back and relax. Let our friendly crew take care of you for the next 2.5 hours. Departing Paihia Wharf, cruise out into the Bay and head to Opua and Okiato. Pass the Omata Estate Vineyard on the way to Kororareka Oyster Farm. Lunch is served as we turn towards Russell and you have the option of disembarking here or return to Paihia. If you do decide to disembark in Russell, we'll shout you the ferry ride to get you back to Paihia. Adult $75, Child $29.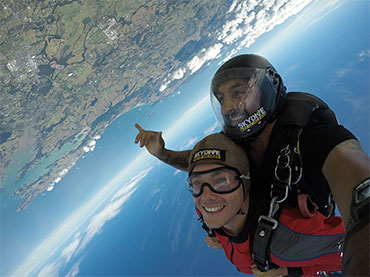 Skydiving
Cruise up to 16,500ft and soak up scenery of all 144 islands that make up the Bay of Islands.
The spectacular views of clear turquoise water, long stretches of pristine golden beaches and lush countryside are guaranteed to take your breath away.
Reaching speeds of up to 200km per hour, experiencing the thrill of free fall is something you'll never forget. They fly up to 16,500ft – the highest skydive in the North Island!
After an insane 70 seconds you'll then float under canopy before landing. You'll be buzzing long after your feet touch the ground.
Skydive Bay of Islands is New Zealand's number one destination for skydiving at the beach. So what are you waiting for? Tandem skydive with the best: the best islands views, the best location, and the best crew and instructors.
Please note that all ages are welcome, but under 16 must have parental consent.
Come fly with the crew at Skydive Bay of Islands now! From $259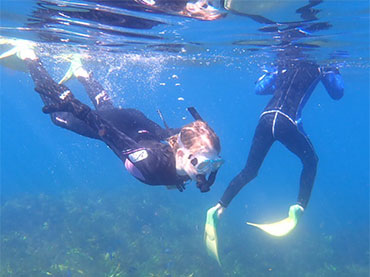 Bay of Islands Snorkelling
The only dedicated snorkelling trip in the Bay of Islands.
With two sites planned for most of our trips, their main focus is in the No Take Zone of Deep Water Cove, with its well known clear waters, it is filled with plentiful and varied marine life. The Elorus Belle is a super stable 8m catamaran, modified in 2019 with a unique fold-down platform for entering the water safely and super easily. When you exit the water there is a hot water shower to warm you up.
Even though the waters here are warm, they provide wet-suits so you are able to spend more time in the water, also a hot water rinse off for when you get out of the water and a cup of soup!
Adults (15+) $150, Child $90. Family rates available.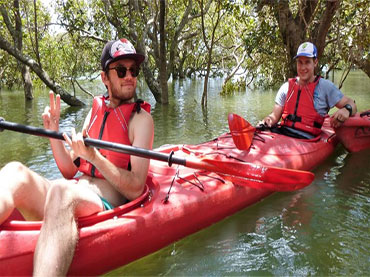 Coastal Kayaking
Half-Day Tours to Haruru Falls and Bay of Islands Coast.
Classic Waterfall Tour – Designed for the more adventurous paddlers. This epic tour winds its way from the mouth of the Waitangi Inlet up to the base of the wondrous Haruru Falls, this unique horseshoe-shaped waterfall will dust you with a light spray of water while your guide takes your photo in front of the waterfall before returning.
Bay of Islands Half-Day Tour – Explore the beautiful Bays and Islands in front of Paihia and Waitangi, this tour is a great taster to sea kayaking and is ideal for beginners or those who are strapped for time.
On this tour you will paddle past idyllic, uninhabited islands and through crystal clear water that reveals New Zealand's amazing marine world beneath you.
Nearby Attractions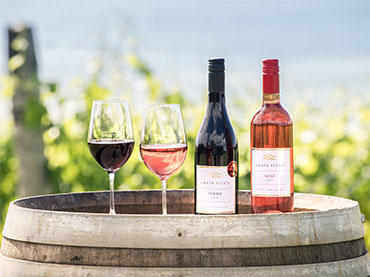 Omata Estate Vineyard and Restaurant
Omata Estate is a boutique vineyard on a sunny peninsula 8km out of Russell, in the Bay of Islands. The vines grow on north facing slopes overlooking the ocean, enjoy the wines whilst overlooking the best view in the Bay of islands.
The Omata Kitchen is a relaxed-style eatery serving gourmet platters and wood-fired pizzas. They strive to source items locally and menus change often.
Omata is a perfect location for a special private function.
Open 11am-6pm Thursday-Monday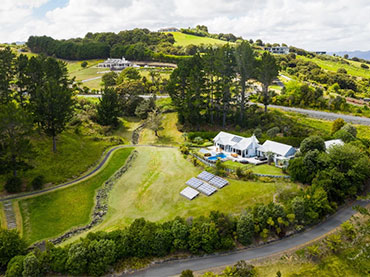 Paroa Bay Vineyard and Sage Restaurant
Nestled in a beautiful setting amid the hills of Paroa Bay near Russell, Paroa Bay Winery is a new family owned boutique vineyard and winery combining luxury accommodation and traditional handmade, sustainable wines. They employ traditional techniques of viticulture and dry grown vines in the hope of creating distinctive handcrafted wines of character in low yields, reflecting the white clay soils and warm climate of the Bay of Islands. An estate covering 24 hectares of rolling hills, they currently have just 4.5 hectares of planted vines including Chardonnay, Sauvignon Blanc, Pinot Gris, Syrah, Cabernet Franc, Cabernet Sauvignon, Malbec and Merlot
Sage Restaurant – the restaurant at Paroa Bay Winery. Perched high above the idyllic Bay of Islands, it is the moana (ocean) and whenua (land) who inform and inspire the menu, the focus is on locally grown and sourced ingredients which combine seamlessly into a uniquely creative brand of New Zealand cuisine.
Sage boasts a broad-ranging menu that features some of the freshest and most revered offerings from the ocean and some of New Zealand's world-renowned natural produce, the chefs work to strike the perfect balance between creative flair and allowing their ingredients to be savoured as they are.
Just a 15-minute drive from the Russell town centre. Booking recommended.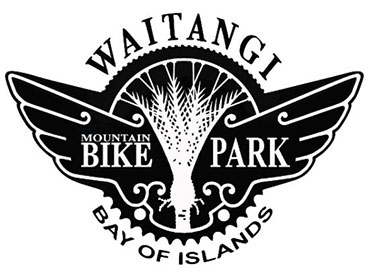 Waitangi Bike Park
The Waitangi Mountain Bike Park in the Waitangi Endowment Forest is located in one of the most beautiful places in the world, the Bay of Islands.
With over 40km complete and a further 30km of trails to be developed in the next few years the park is an exciting new facility for the region.
Waitangi Mountain Bike Park provides the perfect introduction to mountain biking with lots of easy, scenic trails that you can take at your own pace. It offers 30 trails of varying difficulty with great flow and features, from introductory downhill riding, jump trails, cross country and beginner trails. The trail network, designed by Jeff Carter from Southstar Trails, has grown rapidly over the past 2 years and the trails cater to all levels of ability. There are plenty of fast, flowing berms, rollers and jumps. Grade 2 and 3 runs are so well built, they're still fun for more advanced riders. The downhill trails milk the most out of the vertical elevation available providing a lot of fun for a small amount of climbing.
Located an 8-minute drive (or 15-minute easy bike ride) from the township of Paihia, where there is an abundance of accommodation at all price-points, eateries and many other activities and sights to enjoy.
To get to the park from Paihia – Head north through town and over the Waitangi Bridge, past the Waitangi Treaty Grounds and up past the Waitangi Golf Club. At the top of the hill, where Tau Henare Drive becomes Haruru Falls Road, turn down Bayly Road. The entrance and car park area for the Waitangi Mountain Bike Park are located near the end of Bayly Road.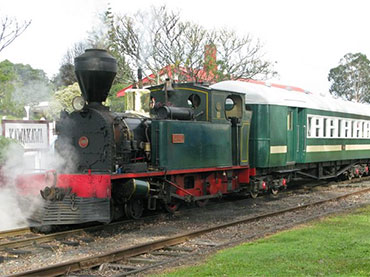 Vintage Railway
The Bay of Islands Vintage Railway is a volunteer-run, not-for-profit charity, and the most northerly railway in New Zealand. It is unique as it is the only working railway in New Zealand where the trains travel down a state highway and right through the middle of a busy town.
Trains operate on a limited timetable, check prior to ensure trains are running.
Adults: All day – Same Day Return Ticket $20, Child $5, under 5s free.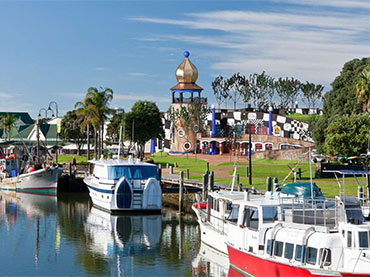 Hundertwasser Art Centre (Whangarei) and Toilets (Kawakawa)
The Hundertwasser Art Centre with Wairau Māori Art Gallery is an iconic landmark on a grand scale and the last authentic Hundertwasser building in the world. Like the artist's work, this stunning building will be multi-faceted and multi-functional with features including a state-of-the-art main gallery of Hundertwasser's work and a contemporary Māori Art Gallery in keeping with Hundertwasser's wishes.
The Hundertwasser Toilets is a public toilet located at 60 Gillies Street, the main street of the town of Kawakawa in northern New Zealand. The structure was completed in 1999.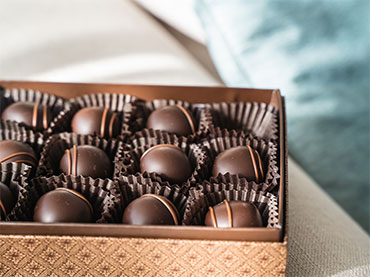 Makana Confections
Makana Confections specialises in gift-quality confections – all handmade and using only the freshest, natural ingredients available to us.
You are welcome to visit our boutique chocolate factory in Kerikeri, Bay of Islands. The facility is set up like a winery/cellar door where you can watch how we make our chocolates, taste a few samples and, of course, shop for delicious chocolates. A dedicated café is located next to the factory.
Get all your sweet treats and gifts.
Things to Do in Town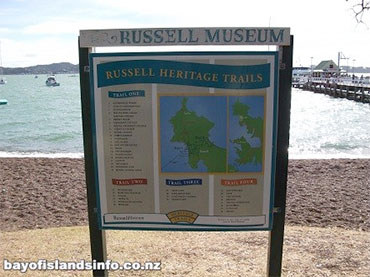 Russell Heritage Trail
The Russell Heritage Trail provides 4 separate trail options from a simple walk around town to day treks. The walks sometimes pass through light bush and they can reach some excellent lookout points.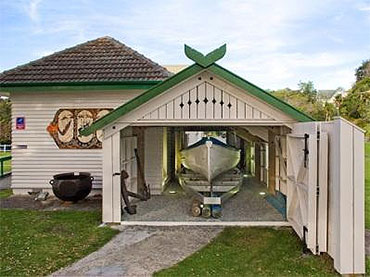 Russell Museum
Entrusted to protect, preserve and share the dual heritage taonga and stories relating to Russell Kororāreka and the wider takiwā of Te Rūnanga o Taumarere ki Rakaumangamanga, to inform our shared future.
Ngā taonga tuku iho nō ngā tūpuna ki a tātou tamariki.
The museum currently features a variety of displays and exhibitions featuring the history of Russell and the Bay of Islands.
Open 7 days per week 10am-4pm (last admissions 3.30pm). Adults $10, Child $5 or free if accompanied by parents.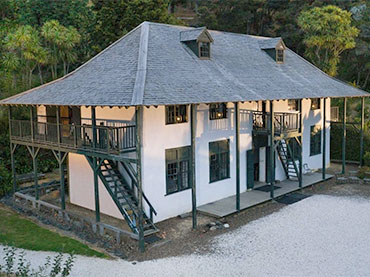 Pompallier Mission and Printery
Built in 1842, Pompallier Mission originally housed a printery where church texts were translated from Latin to te reo Māori, then printed and bound. It is just one of several buildings, including a chapel and various outhouses, which once stood in this crowded enclave. Today the printery stands as New Zealand's oldest industrial building, as well as the oldest of rammed-earth construction, distinctly French in style and making use of local materials including sand, rock and timber.
Pompallier Mission offers one of New Zealand's most enjoyable heritage tours, starting at the gatehouse beyond which lie the glorious gardens that surround the printery. A guided walk through the building reveals its unique architectural features and provides a fascinating step-by-step insight into nineteenth-century printing and bookbinding.
The Mission's original printing press, fully restored to working order, provides just one of many opportunities to experience hands-on the curious printery and tannery equipment. Such old-fashioned fun is a great distraction for younger visitors while the adults absorb the nationally significant pioneer history recounted in museum displays.
Open daily 9am-5pm.
Heritage New Zealand members free, Adult Guided Tour $15, Adult Garden Self-Guided $7, Coffee Croissant and Culture Tour $24.50, under 18yrs free.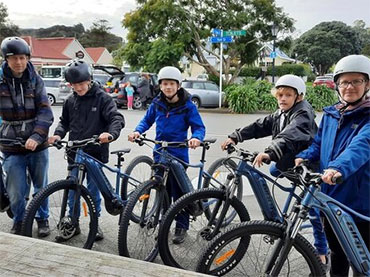 E Bike Hire
Wood2water have 8 brand-new electric mountain bikes available for hire, in 3 frame sizes – small, medium and large. They will also provide you with a Russell map, bike lock and a bike helmet for your safety.
RENTAL RATES
1 hour: $25
2 hours: $50
Half-day: $65
Full-day: $85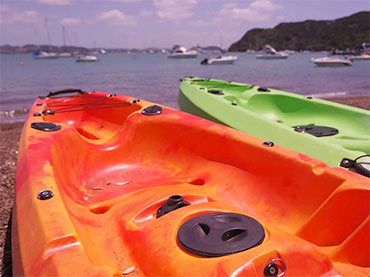 Russell Beach Hire
Boat hire in Russell – motorboat, hobie cats, kayaks, stand-up paddleboards, row boat with outboard.
Located at 8 The Strand.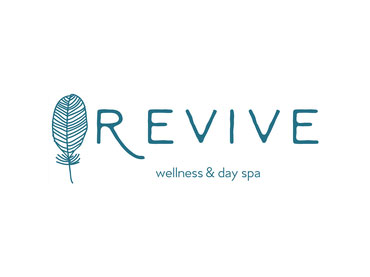 Pampering
Bespoke facial options, relaxing massage treatments and gentle body sessions. A range of treatment options for your nails.
Revive take pride in giving you safe and luxurious manicure and pedicure nail treatments.
The perfect place to take a little time out for some pampering.
Bookings essential as they are usually booked well in advance!
Phone: 09-403 7400
Email: revivedaysparussell@gmail.com