Bellrock Lodge opened its doors to guests the summer of 2010/2011. Since then we have received numerous accolades, including the reviews below: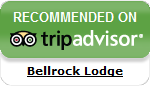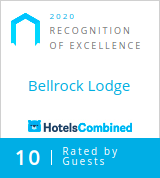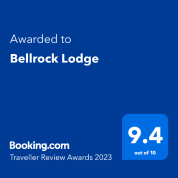 What our guests say about us
Reviewed February 2023
Very attractive and efficient studio space with fantastic deck and views. Loved being above the town for the views, but only a five-minute walk to restaurants and the waterfront. Huge, gorgeous bathroom and comfy bed.

Holly E
Reviewed January 2023
Highly recommend this lodge for a quiet and comfortable stay in Russell. We booked two rooms in this lovely quiet area. The studios are very spacious, clean and comfortable and contain a kitchenette. Both rooms had a private balcony and beautiful views over Russell and the bay. The lodge is just a short walk to the waterfront and restaurants. Owner Catherine was very pleasant and helpful.

Annette W
Reviewed November 2022
Really good rooms with a small kitchen as well. Helpful staff, great location (Russell is a fantastic town). Five stars!

Pedro, S
Reviewed November 2022
Thanks Catherine & Stuart. Your accommodation is wonderful. Best Ever! We have taken some tips to use in our own units.

Searle, F & G
Reviewed November 2022
Love Bellrock Lodge well thought out, spotless and views 'to die for'. Lovely people- and a short walk (downhill) to Russell which is a sweet little place. I could happily up sticks.

Julie
Perfect place to relax!
Reviewed October 2022
Lovely hosts, awesome views and so handy to everything.

Terry B
Awesome Hosts
Reviewed October 2022
Stuart and Catherine were awesome hosts and the accommodation was excellent. Beautiful views across Russell. Thank you for the great stay we will be back.

Jody W
Great place to stay, with great hosts and fantastic views
Reviewed October 2022
The owners were friendly on arrival and made us feel really welcome, Bellrock accommodation is absolutely perfect with everything you need at hand for a perfect stay, as for the location the views from the balcony are stunning, Bellrock Lodge and Russell Town is a must stay if visiting New Zealand.

Keith H
Treat yourself... stay here!
Reviewed October 2022
Fantastic stay! The room is Comfortable in every way. The bed was among the best we've had in 115 days of travel. The view is such a treat. And the town of Russell is exceptional. We were sorry to only have one night. Would have preferred to stay longer rather than be passing through.

Wandering_But_Not_Lost(U.S)
Loved Our Stay
Reviewed October 2022
We absolutely loved our stay at Bellrock Lodge. Excellent locaction, extremely clean, lovely amenities and peacefully quiet. The hosts were friendly and welcoming. We would love to return and highly recommend Bellrock to other travellers.

Laura S
Highly Recommended
Reviewed June 2022
We really enjoyed our stay. Check in was easy and the hosts were very welcoming. Everything was just as described. We highly recommend to other Airbnb travellers.

Kathy L
Great Spot
Reviewed June 2022
Catherine many thanks for a great 2 nights stay. Great spot and top room. Also thank you for letting us put our bikes under cover. All the best, see you again.

Ian M and John J
BMW Motorcycle Club NZ
Wanted to Stay Longer
Reviewed March 2022
Only regret is we didn't stay longer

Georgie NZ
Awesome
Reviewed October 2023
The owners Catherine and Stuart were the perfect hosts! They had a great balance between privacy and sharing important information about where to go. 

Everything was perfect!


Vincent S
Cannot be Overstated
Reviewed February 2022
The beauty, luxury and value of this stay cannot be overstated. High end full kitchenette, lovely luxurious bathroom, gorgeous view and lovely bed... Exactly what we needed!

Robert B
Very Welcoming
Reviewed October 2023
Stunning. Absolutely recommend staying at this beautiful 

place. Absolutely stunning. We were so thrilled with our stay. Lovely host greeted us upon arrival. Our room was set out so beautifully. Absolutely everything we needed to make our stay comfortable. Loved absolutely 

everything. Only downfall to our stay, was not staying longer!

Timperley, NZ
Lovely View
Reviewed January 2022
A lovely view from a beautiful room. Clean and beautifully decorated. A quiet one night romantic stay for us but we really enjoyed the clean bathroom and comfortable bed and thoughtful amenities including the surprise chocolate fish :) thank you to the owners of the Bellrock. We'd love to stay again when we are next in Russell.

Tanya W
Great Wi-Fi
Reviewed June 2023
Thank you very much for having us at your place. The room was so clean and comfortable, and you were very kind that we could feel safe and relaxed. Also, your wi-fi connection was perfect that made me easy to work online with Japan for seven hours, two days 

running. We would stay again if we have chance to visit Bay of Islands"

 

 - Noriyoshi O